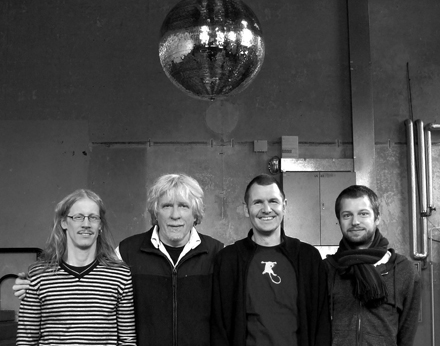 Rhys Chatham emerged from the dazzling New York art and punk scene, but has lived in Paris for the last 20 years. In the 70s, he integrated a rock band line-up with contemporary minimalist composition. After his studies with Morton Subotnick and La Monte Young – one of the inventors of minimal music – he began to play regularly with Tony Conrad and Charlemagne Palestine, two of the earliest exponents of drone music and, like Chatham, key players of American minimal music. Then a gig in May 1976 in Manhattan at CBGBs by The Ramones changed his life, and he began his long love affair with the electric guitar.

You will find Chatham's name in history books as part of the so called No Wave scene. Besides people like Arto Lindsay, Lydia Lunch, James Chance, Bill Laswell, Arthur Russell or Brian Eno, he is reckoned as an important influence for bands like Sonic Youth or Godspeed! You Black Emperor, resulting in members of these bands taking part in his recent Guitar Trio revival performances.

Over the last twenty years Rhys Chatham has attracted interest with his stunning guitar orchestra live projects for 100, 200 and sometimes even 400 guitarists (in front of Sacré Coeur in Paris). He still performs his legendary 1977 composition Guitar Trio regularly all over the world with locally recruited musicians. The title of a 3 CD-boxset of 2008 says it all: Guitar Trio is My Life.